Why buy local, really?
I often hear 'buy local' or 'support local business' as well as support small business.
I was saddened that Dick Smith has had to close his food business. Apparently the beginning of the end for him was Aldi. He said that 'I believed Australians would pay more for Australian products, but turns out I was wrong.'
Upper Reach produces handmade estate grown wines from fruit grown on our Swan Valley vineyard and made in our on-site winery. We are passionate about linking the local community with its rich Swan Valley heritage.
When you visit Upper Reach enjoy and experience local produce as a part of the history of this area.
By supporting local Swan Valley producers you are helping to keep a part of the Swan Valley as working vineyards and wineries.
Vineyards are vital to the future of the Swan, adding hugely to the ambiance, atmosphere and feel of the area.
Agriculture is becoming increasingly mechanised. Upper Reach is a labour intensive, hand crafted family owned and operated producer who employs, supports and lives locally.
Upper Reach as a family business is in stark contrast to mass-produced, corporatized wine production of the big, often multi-national wine companies.
Their grapes and bottled wines are transported thousands of kilometres first to the winery and then to market (high food miles and high carbon footprint).
Corporations do not routinely source local products, they tend to source the cheapest inputs using national buying power. Their objective is to make the maximum amount of profit to be returned to shareholders.
Whereas small and family businesses pay full Australian an WA taxes on all their profits, as well as spending locally on all of the inputs required which again supports invests in the local community.
Upper Reach sells local produced food products and support local services. A reliable supplier base is imperative, so what we need is available when we need it.
Similarly we nurture local trades and service people, this critical network of suppliers and relationships are imperative to ensure we can rely on them in an emergency.
People directly employed by small business tend to live in the local community, as do the staff employed by other local businesses that supply products and services.

Possibly the largest benefit to the local community Upper Reach offers, is a peri-urban food bowl 30 minutes from the city.
This gives the people of Perth the opportunity to experience where and how their food & wine is grown and produced. These experiences are vital in developing a mutual sense of connection between city and country, as well as producer and consumer.
There are significant cultural benefits of Upper Reach and its agri-tourism setting, for tourists and local people, in promoting local agriculture, WA's agricultural past, and the Swan settler heritage (Stirling made camp here on his exploration of the Swan).
I'll be thinking about this next time I'm in the supermarket, I won't take their $2 milk, but will choose a West Australian brand. Same with supporting all the small fruit and vegetable shops and stalls and our local butcher, rather than the big supermarkets that I know screw down the farmers on price.

18 September 2017 |
Laura Pearse
Winter has passed for another year! If like us, you've had enough of hearty soups, slow-cooked casseroles, and stodgy puddings, it's time to celebrate Spring which calls for a juicy, tender Spring lamb dish washed down with a smooth and silky Cabernet Sauvignon. A carefully aged Cabernet is a perfect match for lamb.
The Swan Valley produce a terrific fruit driven style of cabernet - it's a softer, less astringent style to its Margaret River counterpart. This makes a Swan Valley Cabernet more accessable as a younger wine with the trademark minty/ eucalypt nose. With age Swan Valley Cabernet Sauvignon shows softer, dusty tanin which is mellow and ready to drink this Spring.
So, what exactly is Spring Lamb and why do we love it so much? Here's what our Aussie butchers have to say about why it's so good.....
"The reason we have come to associate Spring with lamb season is that this is when lambs are most plentiful and consequently cheapest in Australia.
Most of the lamb in Australia is produced in Victoria, New South Wales and Western Australia where rainfall and grass growth is highest in Spring. Farmers take advantage of this by having more stock on the ground during this time. As such a typical Spring lamb is birthed in Autumn and sold between September and November when it is between 50- 60 kg in weight.
Contrary to popular belief Spring lamb is not exclusively milk fed, milk fed lambs are called sucker lambs. Because lambs are able to graze on lush grasses they take up nutrients from these such as Omega 3 and 6 making Spring lamb a healthy family choice. As the lambs have not reached full maturity the meat is much leaner and tender while also having a deliciously mild flavour".
So it's official! Spring lamb is best and we've put together one of our favourite recipes from Yotam Ottolenghi's book "Ottolenghi" for you to try at home. All you need is a sharp knife, a bottle of the Upper Reach 2010 Cabernet (pour a glass to steady your hand) and a group of friends to share it with.....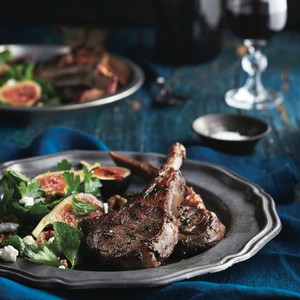 Photo courtesy of Yotam Ottolenghi's book "Ottolenghi"
12 lamb rib chops, French trimmed
6 thyme sprigs, leaves removed and chopped
1 sprig of fresh rosemary, leaves removed and chopped
2 garlic cloves, crushed
1/2tsp sea salt
1/2 cup orange juice
1/4 cup red-wine vinegar
3 tbsp honey
1 cinnamon stick
1 star anise
1/2 cup walnuts, coarsely chopped
100 g goat cheese, crumbled
1/2 cup flat-leaf parsley leaves
1/3 cup mint leaves
2 tbsp olive oil
1/4tsp salt
4 fresh figs, quartered
Open the wine, allow to breathe.... then rub lamb chops with oil, thyme, rosemary, garlic and 1/4 tsp salt in a large bowl. Cover with plastic wrap and refrigerate for at least 4 hours.
Pour yourself a glass of wine...then combine the orange juice with vinegar, honey, cinnamon stick and star anise in a small saucepan and set over medium-high. Bring to a boil, then reduce heat to medium-low. Simmer until sauce is reduced by two-thirds, 30 to 40 min. Remove from heat and cover.
Toast walnuts in a small, non-stick frying pan over medium, about 5 min. Cool.
Pre-heat barbecue or grill pan to medium-high. Have another glass of that delicious Cabernet...
Sprinkle chops with remaining 1/4 tsp of salt. Season with fresh pepper. Oil grill, then barbecue chops 3 to 4 min per side for medium-rare. Transfer to a cutting board and let stand about 2 min before serving.
Toss walnuts with cheese, parsley, mint, oil and 1/4 tsp salt. Season with fresh pepper. Top with figs. Drizzle lamb with sauce.
Welcome your guests and if there's any wine left in the bottle, share around ….. if not, open another!