WINE 101 | Wine Appreciation Class
Class Only $95pp | Class + Lunch $155pp
---
The perfect way to get a real understanding of wine and wine styles.
You'll be tasting like a pro at the end of this hour and a half, with all those wine questions and myths answered. Perfect for beginners and wine enthusiasts alike.
Classes begin at 10.30 sharp and finish at 12 noon, followed by lunch.
If you would rather speak to a real person, call us on 08 9296 0078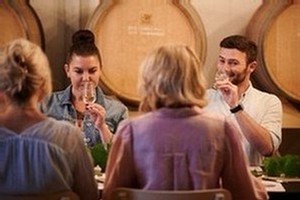 2023
Saturday 7th October Saturday 18th November
2024
Saturday 20th January Saturday 3rd February
Saturday 2nd March Saturday 23rd March
Saturday 13th April Saturday 20th April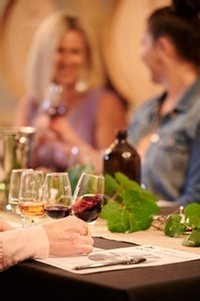 Understand the basics of wine tasting and taste like a pro after the class

Be the winemaker, create a wine, balancing the sweetness and acid

Experience how oak barrels change wines

Appreciate how wines age and when best to drink them

A formal seated tasting experience, in the working winery surrounded by barrels

Taste our wines to practice your new wine appreciation skills
Class Only | $95pp
Lunch & Class | $155pp After your class, relax and enjoy a two course lunch with sweeping views of the vineyard. Lunch Menu
What do people say about our classes....
'Fun & engaging! I really found my passion for wine after this class' Hannah
'The best wine education session I have done' Tim
'What a wonderful way to learn more about wine appreciation instead of just drinking it and never giving it another thought.
Loved the plate with all the items you could sniff to identify the flavour you were trying to identify in the wine.
The atmosphere was great and the presentation fantastic.
The meal afterwards soaked up all the wine and was top notch.' Eric
---
WINE 102 | Food & Wine Pairing
Food & Wine $155pp
---
The next step of your Wine Adventure.
Discover the hidden potential of wine to enhance your food experience through different flavours and wine styles.
Your Food & Wine class will be fun, informal and educational.
This class is perfect for people who have attended our Wine 101 classes in the past.
• Discover how wine and food pair together, to combine and enhance flavour and style.
• Expands on the Wine 101 tasting profile with new varietals added.
• Explore the wines on their own and then discover how food can change and enhance the wine flavours.
• Enjoy your entree in our wine room, in a long table setting.
• Your Main Course will be served in the restaurant, with a suggested wine carefully selected by your host..
Saturday 6th April 2024 - 10.30am
Saturday 6th July 2024 - 10.30am
Saturday 2nd October 2024 - 10.30am
---
Wine 103 | How Wine Ages
Class $95 | Class & 2 Course Lunch $155
---
This masterclass focuses on wine's age-ability.
Enjoy a seated tasting of Upper Reach's complex aged museum wines against a significantly younger vintage.
Discover how wine ages,

explore how flavours develop over time

how aeration & decanting affect a wine.
You'll want to show off your new wine knowledge.
The Upper Reach private museum cellar is rarely opened to anyone, and in the spirit of the occasion, Lauren will select a wild card, a really old museum vintage bottle that you will taste, dissect and analyse together.

Learn how to start your own wine cellar,

what wines age well,

tips and tricks on cellaring wine in your own home.
The Masterclass is held upstairs overlooking the tanks in the winery surrounded by barrels, with flights of both red and white wine varieties.
Wine Appreciation Masterclass $95pp
Lunch & Masterclass $155pp
After your class, relax and enjoy a 2 course lunch with sweeping views of the vineyard.
Saturday 14th September 2024

To book please call or email us

---
Terms and Conditions For Wine Classes:
Bookings:
Due to our Covid Safe seating plan, we are not able to take a single ticket booking for these classes. Bookings of two or more are welcome.
Cancellations
Tickets are non-refundable, as are guest no shows.
Transfer of tickets (at Upper Reach's discretion) to an alternative date will incur a $15 transfer fee per ticket.
We hope it doesn't happen, but if it does Covid Cancellation Policy
Refunds
Upper Reach Winery reserves the right to cancel classes due to unforeseen event or circumstances.
In the event a class is cancelled, clients will be rebooked onto an alternative tour date of their choice OR offered a refund of the full ticket price.
Upper Reach Winery reserves the right to refuse guests who we believed to be affected by alcohol or drugs for the safety of all guests. Full tickets will be forfeited under these circumstances and no refund will be provided.
Children
These classes are not suitable for people under the age of 18. Children must be accompanied and supervised by an adult at all times.

More Wine 101 Dates:
Saturday 19th August
Saturday 2nd September
Saturday 16th September
Saturday 7th October
Sunday 22nd October
Sunday 5th November
Sunday 19th November
Saturday 2nd December