Swan Valley Twilight Expo
Thursday 18th January 2024 4pm - 9pm.
Experience the Swan Valley as the sun sets across the vineyards….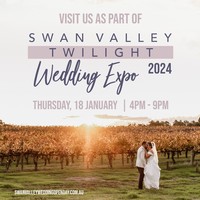 Discover a range of ceremony and reception locations under the twinkle of fairy lights as the sun sets in the Valley. Join Upper Reach and our favourite wedding suppliers as we showcase our wedding products and services; at sunset from 4pm - 9pm.
This is the perfect opportunity to see yUpper Reach as it will look on the night of your special day.
---
2024 Twilight Picnic Concerts
Each year we search out the very best local Perth bands for our Twilight Concerts...from Dirty Jazz to Aretha Franklin Tribute, Swing Bands to Soul, they're all great nights!
These Summer Picnic concerts are amazing, people are up and dancing all night. But be warned, they book out quickly.
---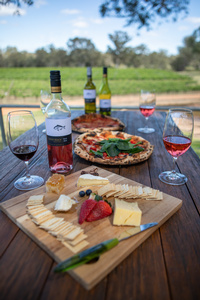 The TreeHouse Pizza Bar is open every weekend
Relax in the shade of the majestic River Gum tree, with a Neapolitan style pizza, glass of wine or a draught beer.
No need to book for smaller groups, just drop in.
This is summer in Perth!

For groups of over 12 people, please call on 9296 0078 so we can set aside some tables in a grouping that has you all sitting together.
---
Mid-Week Escape | Two Nights, Winery Tour & Lunch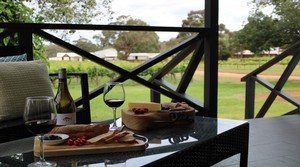 Relax, Taste and Explore Upper Reach for a two night stay in our vineyard cottage, then wander down to the Cellar Door for your personal Winery Tour.
Discover how we make our wine; from the way we farm our land, to where the wine is made, you'll see it all.
Walk through the vineyard and into our working winery with your personal guide, discovering the grape varieties that make the Swan Valley region so special while tasting a few wines.
Then relax over a lazy two course lunch with sweeping views of the vineyard.
After a day of exploring and lunching, retreat to your cottage surrounded by your very own 20 acre vineyard.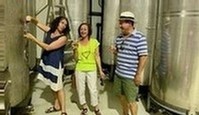 Settle down for the afternoon on the deck with a glass of wine, maybe a few cheeses and watch the sunset over the vines, then snuggle up in front of the wood burining stove.
What more could you want?
Cost: $605 for two people includes:
2 night stay in our Vineyard Cottage (Monday -Thursday)
One hour winery tour
Two course lunch for you both (lunch on Monday, Thursday or Friday)
To Book | Phone 08 9296 0078 or email us and we'll personally organise everything for you
---
Spring Fling
Join us for a Spectacular Evening of Wine & Pizza Canapes.

Dive into Vintage 2023 with winemaker Lauren as she shares the highs and lows of this remarkable vintage.
As the sun sets over the vineyard, indulge in a casual evening of wine and pizza!
We'll taste five exceptional wines:
2023 Unwooded Chardonnay -first one in four years
🥉 2022 Gig White🥉
🥇 2023 Verdelho 🥇
🥉 2022 Reserve Chardonnay 🥉
🏆 2022 Grenache 🏆
Wine 103 | How Wine Ages Masterclass | Sunday 14 November
This masterclass focuses on wine's age-ability.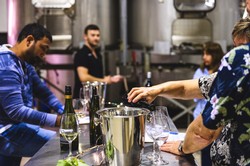 Enjoy a seated tasting of Upper Reach's complex aged museum wines against a significantly
younger vintage.
Discover how wine ages,

Explore how flavours develop over time

How aeration & decanting affect a wine.
You'll want to show off your new wine knowledge.
The Upper Reach private museum cellar is rarely opened to anyone, and in the spirit of the occasion, Alex will select a wild card, a really old museum vintage bottle that you will taste, dissect and analyse together.
Learn how to start your own wine cellar,

Which wines age well,

Tips and tricks on cellaring wine in your own home.
Wine Appreciation Masterclass $80pp
Lunch & Masterclass $140pp
After your class, relax and enjoy a 3 course lunch with sweeping views of the vineyard.
Sunday 14th November
To book please call or email us

---
Harvest In The Swan Valley
It's February and that means Harvest in the Swan Valley,
Chef has designed a long table lunch with seven small plates for you
to celebrate the very best of the Swan Valley's produce.
SOLD OUT
WA's Great Graze
18th of March
Chef has created eight small dishes
celebrating the very best of the Swan Valley.

SOLD OUT
Museum Shiraz Wine Flight & 5 Course Dinner
Saturday 22nd July
You'll be able to purchase the limited 2010, 2014, 2018 & 2021 Reserve Shiraz before proceeding to the delectable Five Course Mid Winter Feast prepared by our wonderful chef, Ryan Fels.
SOLD OUT
Entwined In The Valley
Vineyard Walk & 6 Course Degustation Dinner
Saturday 7th October
Budburst heralds the arrival of spring;
let's celebrate with a wander through the vineyard with a glass of Sparkling Chardonnay, guided by winemaker, Lauren Pileggi.
Lauren will explain the Upper Reach vineyard philosophy and ethos regarding the symbiotic relationship between the vineyard and the winery, the grower and the maker.
Continue the symbiotic relationship between grower and producer/ creator with a 6 course degustation dinner showcasing the best local seasonal produce selected by executive chef Ryan Fels.
Enjoy your first course as the sun sets and twilight falls over the vines.
SOLD OUT