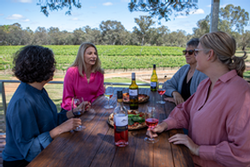 Welcome to the Treehouse at Upper Reach which has been a dream of owners, Derek & Laura, for many years.
The Treehouse offers a relaxed vibe where you can linger over a glass of wine or a beer on tap while enjoying crisp Neapolitan style pizzas using locally-sourced ingredients straight from the handmade pizza oven.
Open Every Weekend 12pm - 3pm.
No Booking Required

If there are 10 or more of you please call or email us to secure your spot & we'll organise your booking.
---
Pizza Menu
Margherita
$23
Shaved leg ham, kalamata olive, artichoke, fior di latte, oregano & rocket
$27
Nduja, roast peppers, red onion, fior di latte, parmigiano
$27
Pork & fennel sausage, rocket, caramelised onions, fior di latte, parmigiano
$27
Shark Bay tiger prawns, chilli, parsley, buffalo mozzarella, rocket
$30
Roast mushroom, grilled peppers, red onion, feta, fior di latte & oregano
$26
Buffalo mozarella, anchovies, capers, kalamata olives, oregano
$26
Gluten free bases available for an extra $4
---
Built around the magnificent Marri tree which has always been a focal point for everyone visiting Upper Reach, the Treehouse is perched between the vineyard and the Swan River on one side and the beautiful lawn, cellar door and restaurant on the other.
With an open deck, a closed-in deck and bar, the Treehouse will serve the full range of our award-winning wines by the bottle or glass along with draught beer.
To have our dream come to fruition is so exciting; we can't wait to share the whole Upper Reach experience with you.
Though we love your pooch, dogs can't come to the TreeHouse...it could just get too crazy!