Twilight Concerts
Intimate, picnic style Twilight Concerts showcasing Perth's best Soul, Swing & Jazz.
Come, eat, drink and dance
Combine marvellous music with wonderful wines & fabulous food; you have the perfect summer evening in the Swan Valley.
As the sun sets over the vineyard, the music begins, you have four options:
Dinner & Show | dine in style, with a three course dinner at The Restaurant overlooking the festivities

Pizza & Show | choose which timeslot you'd like to get your pizza

General Admission | bring a picnic and sit on the lawn

Season Pass | don't miss out, come to all four Twilight Concerts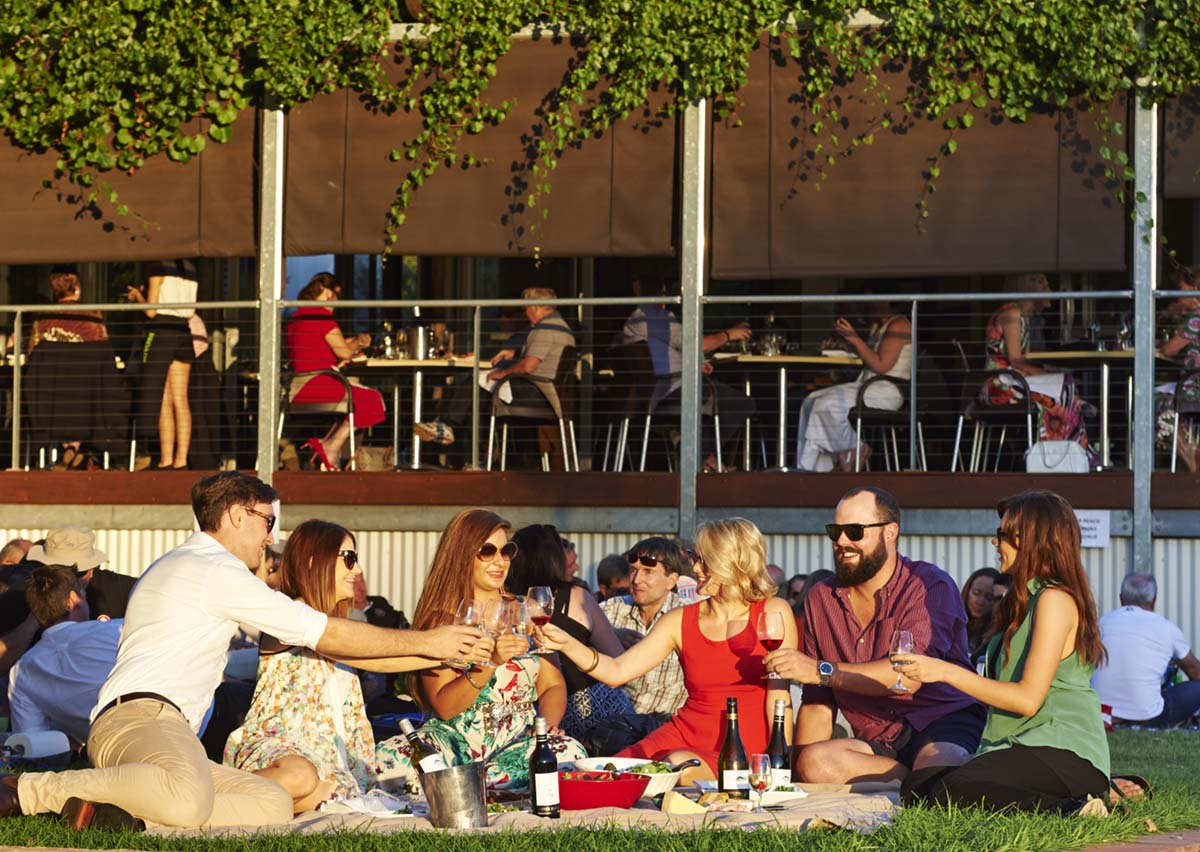 Soul Divas: Tribute to Aretha Franklin & the women she inspired | Saturday 10 February 2024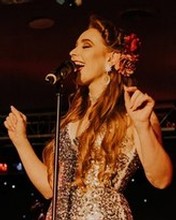 Channel your inner Soul Diva,
pay tribute to the female great Aretha Franklin and those she inspired, keeping soul alive today.
Aretha Franklin, Etta James, Whitney Houston,
Amy Winehouse, Adele & Beyonce.
'Vibrant, authentic & honest' Mia Mattiessen with her 7-piece band pay tribute to the greatest Soul Divas of all time.
Come hear all your favourites for a sensational and soul filling night.
The Velvet Playboys with Adam Hall | Saturday 17 February 2024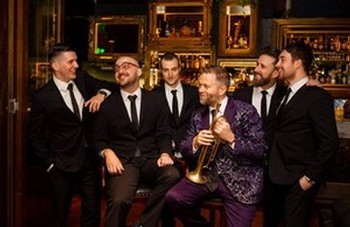 Back by very popular demand, these guys are fantastic entertainers their captivating live performance and raw energy will totally wow you.
The Velvet Playboys blend jazz with rhythm and blues music from the 40s and 50s.
Covering artists such as Ray Charles, Frank Sinatra, Louis Prima, Sammy Davis Junior, Harry Connick Junior, Jackie Wilson, Chuck Berry and The Blues Brothers.
Dirty Jazz with Jessie Gordon | Saturday 24 February 2024
Join Jessie Gordon for a thrilling speakeasy adventure through the darker side of jazz.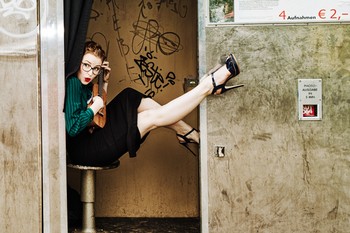 A rip-roaring evening, with songs about drinking, thinking and fine dining, none safe for regular consumption.
The band features Jessie's dream team; Karl Florisson on double bass, Michael Perkins on drums, as well as the fast-fingered Jon Knox-Matthews on electric guitar and Lachlan Glover on saxophone.
The band will start with a lush musical backdrop for as the sun drops behind the vines.
But as the night unfolds they'll be pulling out all the stops to get you dancing to some raucous blues as darkness falls; bring your dancing shoes.
Adam Hall & the Soul Playboys | Saturday 9 March 2024
This concert is all about soul.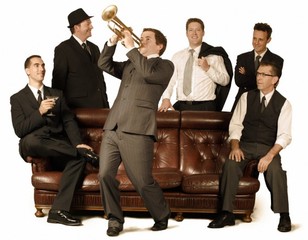 Adam Hall will take you for a night of soul, velvet sounds and groovy times.
Think Stevie Wonder, Prince, Michael Jackson and then of the modern Bruno Mars, Justin Timberlake and Beyoncé.
Superstition, No Diggity and many more classic hits will have you up and dancing!
---
Dinner & Show: $140 includes concert entry, three course dinner (Entreé, Main & Dessert) in the Restaurant, overlooking the festivities.
Pizza & Show: $89 includes concert entry, pizza & table at the TreeHouse
General Admission: $55 5-17 years $25, under 5 Free
Season Pass: $185 General Admission to four Twilight Concerts
Doors open 5:45pm, Music starts 6:30 prompt, finishing 9.30pm
---
FAQs:
What time does the music start & finish?
The Bands start to play at 6.30, they play three sets, with two intervals and the music finishes at 9.30

Can we bring our own chairs?
General Admission ticketholders are welcome to bring picnic rugs and low, concert style chairs,
​If you bring a high backed chair, you will be seated to the rear of the venue.

What's for Dinner at The Restaurant?
Dinner Menu for 2024 Concerts

I've booked dinner in the Restaurant, what time is my booking?
If you've booked Dinner & Show, you will have a table in the restaurant for the whole night.
​People generally arrive about 6pm, to be seated and organised for the start of the music.

How do I get my Pizza?
When you buy your ticket you choose which timeslot you'd like your pizza, either 5.45-6.30 or 6.45-7.30 or after 7.30
Once your timeslot begins, come up to the bar to order your Pizza, you'll be given a buzzer so you can come & collect it when it's ready.
Pizza Menu

I'm gluten free, what can I eat?
The restaurant offers a variety of gluten-free options.
If you have a severe food allergy, please make this clear in the food allergy section when you book your ticket.
We have gluten-free pizza bases for an extra $4.
Please let us know when you book your ticket, and when you order your pizza on the night.

Can I bring drinks?
​It's strictly NO BYO alcohol. Wine, draught beer, no-alcohol beer and soft drinks are available for purchase.
Pay a deposit and use our wine glasses, or feel free to bring your own.
We're sure you'll enjoy our award winning wines, especially when surrounded by the vines they are grown on!

Can I bring my own food?
General Admission ticket holders may bring their own picnic.
​There is of course no BYO food in the Restaurant.

Can I arrive early?
Doors open from 5.45.
​Arrive early, grab a spot on the lawn and enjoy a glass of wine while the sun sets over the vineyard.

What's the refund policy?
Strictly no refunds or transfers after ticket purchase.
​If there is a Covid-19 outbreak and we have to cancel the entire concert, only in this instance will refunds will be offered.

What happens if rain is forecast?
This is a rain or shine event, so the show will go on, no refunds will be offered.
However if for any reason we need to cancel the event we will offer you a full refund or the option of an alternative date or a wine credit.

Do I have to bring my printed ticket to the event?
Yes please. But don't worry if you forget - we will have your name on the gate list.
​You can also show the tickets on your phone.

I want to sit on the lawn but can I still order a pizza, dessert or a cheese board?
Yes you can pre-order dessert or a cheeseboard from the TreeHouse Bar.
We cannot guarantee you will be able to buy a pizza on the day, so I'd get a Pizza & Show ticket.

I want to sit on the lawn but can I still buy food from The Restaurant?
​No, the Restaurant will only serve food to Dinner & Show Tickets.
​​
What about Tea & Coffee?
If you have a General Admission or Pizza & Show Ticket, you will need to BYO tea & coffee.
The Restaurant will only be able to serve hot drinks to people with Dinner & Show Tickets.

---
🧡 "You guys really have nailed the outdoor concert! So intimate and such a fantastic atmosphere. We will definitely return for future concerts" - Natalee

🧡 "Great night. Yummy food, good service, amazing entertainment and brilliant venue" - Juliet

🧡 "What a great night under the stars watching an amazing performance by Adam Hall & the Velvent Playboys. We danced and danced. Thank you Upper Reach xx" - Fiona