Upper Reach Cellar Club
Welcome to the Family...
Joining the Upper Reach Cellar Club makes you an Upper Reach insider, with exclusive access to our finest bottles, including three automatic deliveries - just when you need them:
Mid-Winter a mid-winter feast, Christmas in July or just snuggling up in your PJs
Spring time to come out of hibernation and enjoy all the good stuff
Christmas everyone needs wine this time of year
Easter just as many days off as Christmas, but none of the stress
Our Winemaker, Derek, personally selects Upper Reach's best wines to offer premium access for Cellar Club members. Alternatively you can choose your own selection and still enjoy Cellar Club pricing.
Cellar Club dozens always include detailed notes on the wines, as well as suggestions for pairing with food personally researched and recommended by us.
Get started, just choose your club below...
Wine Makers Selection
A dozen of our best wines, hand selected by our winemaker.
You'll always get six of the best red wines & six of the best whites.
Red Wine Club
I only drink red wine.
Send me 12 of your best reds.
White Wine Club
Love a glass of crisp, white?
This is your club.
Create My Own Case
Don't tell me what I'm drinking.
I'll choose my own dozen, thanks...
'l love getting great value wine sent to me, that I don't have to think about, the Upper Reach guys know what I like' Kevin
'My favourite part of being a member is the oppertunity to try new and different wines, along with old favourites' Alex
---
But the wines are only the beginning...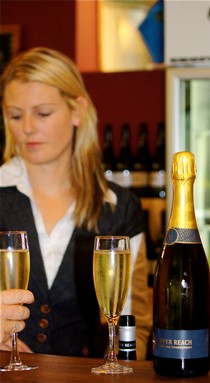 There are a wealth of exclusive benefits and opportunities to experience Upper Reach to its fullest:
-including discounted wine prices
-early access to special release wines
-first release event & Twilight Concert tickets
-exclusive invitations to private wine tastings
-access to the winemaker with all your wine questions & queries
-3 deliveries per year*
[after your first 3 cases you have the option of skipping or cancelling your membership]
*Please note we require a minimum of one years membership to unlock membership benefits.
Cancellation before one year will incur a fee equal to the discount recieved.

Best of all?
The Upper Reach Cellar Club is free to join.