Open Every Weekend 12pm - 3pm
Tree House Pizza Menu
Margherita
$23

Shaved leg ham, kalamata olive, artichoke, fior di latte, oregano, rocket, crushed tomato
$27

Nduja, roast peppers, red onion, sopressa, fior di latte, parmigiano
$27

Prosciutto, shaved Parmesan, fior di latte, crushed tomato, rocket
$27

Pork & fennel sausage, rocket, caramelised onions, fior di latte, parmigiano
$27

Shark Bay tiger prawns, chilli, parsley, buffalo mozzarella
$30

Roast mushroom, grilled peppers, red onion, feta, fior di latte & oregano
$26

Buffalo mozarella, anchovies, capers, kalamata olives, oregano
$26
Gluten free bases available ($3 extra)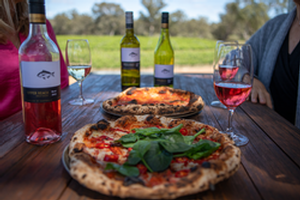 If there are more than 10 of you please call us to book your spot.
Casual food to enjoy with friends & family.
Neapolitan style pizzas are created using locally-sourced ingredients straight from the handmade pizza oven.
Though we love your pooch, dogs can't come to the TreeHouse...it could just get too crazy!

15% surcharge on Public Holidays