18 September 2017 | Laura Pearse
Spring Lamb - the perfect match for Cabernet Sauvignon
Winter has passed for another year! If like us, you've had enough of hearty soups, slow-cooked casseroles, and stodgy puddings, it's time to celebrate Spring which calls for a juicy, tender Spring lamb dish washed down with a smooth and silky Cabernet Sauvignon. A carefully aged Cabernet is a perfect match for lamb.
Upper Reach produces a terrific cool-climate cabernet - it's fruit for this "passion Project" of Derek's, the winemaker, is from Margaret River. This makes this 2016 Margaret River Cabernet a full-bodied wine with the trademark minty/ eucalypt nose. With age, Cabernet Sauvignon shows softer, dusty tannin which is mellow and ready to drink this Spring.
So, what exactly is Spring Lamb and why do we love it so much? Here's what our Aussie butchers have to say about why it's so good.....
"The reason we have come to associate Spring with lamb season is that this is when lambs are most plentiful and consequently cheapest in Australia.
Most of the lamb in Australia is produced in Victoria, New South Wales and Western Australia where rainfall and grass growth is highest in Spring. Farmers take advantage of this by having more stock on the ground during this time. As such a typical Spring lamb is birthed in Autumn and sold between September and November when it is between 50- 60 kg in weight.
Contrary to popular belief Spring lamb is not exclusively milk-fed, milk-fed lambs are called sucker lambs. Because lambs are able to graze on lush grasses they take up nutrients from these such as Omega 3 and 6 making Spring lamb a healthy family choice. As the lambs have not reached full maturity the meat is much leaner and tender while also having a deliciously mild flavour".
So it's official! Spring lamb is best and we've put together one of our favourite recipes from Yotam Ottolenghi's book "Ottolenghi" for you to try at home. All you need is a sharp knife, a bottle of the Upper Reach Cabernet (pour a glass to steady your hand) and a group of friends to share it with.....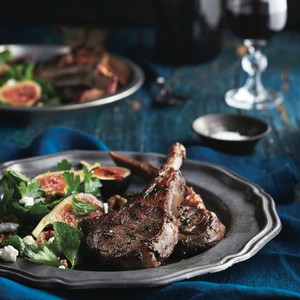 Photo courtesy of Yotam Ottolenghi's book "Ottolenghi"
12 lamb rib chops, French trimmed
6 thyme sprigs, leaves removed and chopped
1 sprig of fresh rosemary, leaves removed and chopped
2 garlic cloves, crushed
1/2tsp sea salt
1/2 cup orange juice
1/4 cup red-wine vinegar
3 tbsp honey
1 cinnamon stick
1 star anise
1/2 cup walnuts, coarsely chopped
100 g goat cheese, crumbled
1/2 cup flat-leaf parsley leaves
1/3 cup mint leaves
2 tbsp olive oil
1/4tsp salt
4 fresh figs, quartered
Open the wine, allow to breathe.... then rub lamb chops with oil, thyme, rosemary, garlic and 1/4 tsp salt in a large bowl. Cover with plastic wrap and refrigerate for at least 4 hours.
Pour yourself a glass of wine...then combine the orange juice with vinegar, honey, cinnamon stick and star anise in a small saucepan and set over medium-high. Bring to a boil, then reduce heat to medium-low. Simmer until sauce is reduced by two-thirds, 30 to 40 min. Remove from heat and cover.
Toast walnuts in a small, non-stick frying pan over medium, about 5 min. Cool.
Pre-heat barbecue or grill pan to medium-high. Have another glass of that delicious Cabernet...
Sprinkle chops with remaining 1/4 tsp of salt. Season with fresh pepper. Oil grill, then barbecue chops 3 to 4 min per side for medium-rare. Transfer to a cutting board and let stand about 2 min before serving.
Toss walnuts with cheese, parsley, mint, oil and 1/4 tsp salt. Season with fresh pepper. Top with figs. Drizzle lamb with sauce.
Welcome your guests and if there's any wine left in the bottle, share around ….. if not, open another!