28 August 2019 | Laura Pearse
Tasting etiquette at a winery- what to do? And how to look like you know what you are doing!
Five Top Wine Tasting Tips
Let's face it, we can find walking into a winery for wine tasting a little daunting.
I sometimes feel the same, and I work in a winery!
Will I be judged?
Will they think I don't know about wines?
What do I ask for?
How do they do their wine tasting?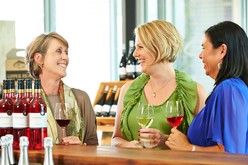 Tip number 1: Tasting notes
The winery will usually put the wine tasting list in "tasting order"- from top to bottom.
Driest white wines at the top, sweetest white wines at the bottom for the whites…. Lightest/softest reds at the top to more full-bodied red wines at the bottom, for reds list.
So, if you are in doubt over where to start on the list, start at the top and work towards the bottom.
If you know you only like sweet wines, or a certain type of wine, say a full-bodied red, ask for them. Cellar door staff are happy to show you around the wine list.
You do not have to try all of the wines. Especially if the winery has an extensive tasting list.
Tip number 2: Have a conversation.
There is nothing more awkward than silence while watching someone struggle with a wine list.
It is ok to say, look, I like sweet wines or dry whites, or I usually drink Sauv Blanc- what do you suggest?
Actually at Cellar Door, we love that. It helps us get a feel for what you like, so we can make some suggestions for you to try.
Chat about the wine you like, the food you like with your wines, even if you just want a "drink now" wine for under the pergola, tell us.
A tasting at cellar door should always be a conversation, never done in awkward silence.
We aren't going to quiz your wine knowledge.
Good conversation and wine go together like…well, good conversation and wine!
Tell the cellar door staff what you usually like to drink and be guided by them….you might stumble across a variety or style you would not have otherwise tried that you love. That's what wine tasting is all about.
Handy tip: we love a good chat about the footy and cricket too if you are not THAT into wine!
Tip number 3: Tasting fees
Some wineries charge a tasting fee. So be prepared.
The idea behind a 'free tasting' is that you're 'trying before you buy.'
Effectively a Cellar Door is a shop, so the aim is to sell wine.
Some producers will charge a one-off tasting fee to taste all wines.
Others may charge for only the premium wines on the tasting list if you choose to try them.
Sometimes the tasting fees are waived if wine is purchased.
There should be no expectation that wine tasting is free.
I mean no-one else gives you free stuff?
Tip number 4: The Spittoon
The dreaded spittoon….so scary sitting on the counter for the novice…. can I really spit out the wine? Can I pour wine into it? What's it for?
The spittoon is there for those that do not want to swallow the wines, just sip, get the flavour of the wines then spit it out (they might be driving). This is perfectly fine etiquette. But that is not its only function.
You might have tasted a wine that's not your favourite and decide not to finish the sample, it is perfectly fine to tip the rest out into the spittoon.
Rinsing the glass with water between tastings is common (but not essential) you can either drink the water to cleanse your pallet or tip the water into the spittoon. I personally only rinse my glass after the white wines going onto the reds or before going on to dessert wines. I don't rinse after each sample.
The big no-no: What is not ok is putting your chewing gum into the spittoon. That's gross. Don't do it. Ever.
---
So there you have it… walk into your next cellar door with confidence! When was the last time you visited the Swan Valley Wineries? Now is the perfect time to get out and see some terrific local producers and make a day of it.
Have we whetted your appetite? Would you like to REALLY learn about wine? We have terrific beginner "Wine 101 "wine classes in Perth ( Swan valley) that are fun, friendly and we will start you at the very beginning and show you how to taste and appreciate wine like a pro.
We won't leave you there…Wine 102, the next step of your wine journey. Take an educational winery and vineyard tour where we show you have we grow the grapes and make the wine. Learn the winemaking process from grape to glass!
We will have you being that very annoying friend that "talks wine at you" in no time!