14 September 2023 | Laura Pearse
Wine Show Medals and Wine | Separating Bling from Brilliance
We've all seen those glitzy gold stickers on wine bottles, right? They promise quality, but do they always deliver? At Upper Reach, our family-owned Swan Valley winery, we're uncorking the truth about wine show medals, the history behind them, and whether they're a true measure of wine excellence. So, grab a glass, and let's find out if all that glitters is actually gold!
The History of Wine Shows:
Wine shows have been around since the 1800s, starting as part of agricultural exhibitions.
Their purpose was to promote improvements in all aspects of agriculture, like cattle, cake baking, jam making, poultry and so on and wine was included in the 'general produce' section.
In the 50s, iconic wines like Grange and innovative winemakers like Wolf Blass challenged traditional norms at these shows by making styles of wine that would impress the judges.
Nowadays, there are wine shows in every capital city in Australia with many regional shows as well.
The difference between a National and a Regional Wine Show:
The Perth Royal Show is a national show so wineries from all over Australia, with hugely varying climates and growing conditions, enter their top wines.

The Swan Valley Wine Show is a regional show which enables the judges to look at one region and get a real feel for the wine styles coming this that climate.
Understanding the Wine Show Medal System:
In Australia, wines are scored out of 20 in the classic show system.
Gold medals go to wines above 18.5 points, silver to those between 17 and 18.5, and bronze for wines scoring between 15.5 and 17.
Medals signify achieving a minimum quality standard, not first, second, or third place.
Trophies represent the best wine in specific categories across multiple classes.
The Pros and Cons of Wine Shows:
Wine shows judge technical perfection, not drinkability, value for money, or aging potential.
Trends influence judging criteria; different eras favour different wine styles.
A single show result might not truly reflect a wine's merit.
The main purpose of wine shows is for winemakers to have their wines independently assessed.
Good winemakers should be able to evaluate their own wines.
At Upper Reach, we enter our wines into various shows, including the Swan Valley Wine Show and the Perth Wine Show. Our aim is to showcase the character of our Swan Valley estate-grown fruit. We prioritise creating fresh, vibrant, and full-flavored wines that our loyal customers love. We're not swayed by trends or chasing medals; our customers' feedback drives us. After all, you can't drink a Gold Medal!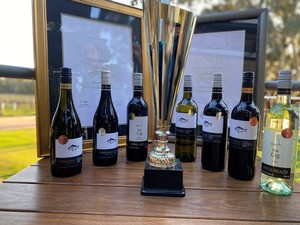 At the 2023 Swan Valley Wine Show we were over the moon to be awarded 3 trophies for the 2022 The Gig Grenache (The Alan Dinneen Memorial Trophy, The Best Single Red Varietal and the Best Regional Wine of Show). and 7 Medals for other wines in our range. Gold Medals for the 2023 Verdelho and the 2022 The Gig Grenache, Silver Medals for the 2022 Tempranillo and the 2022 Cabernet Sauvignon Merlot and Bronze Medals for the 2023 The Gig White and the 2022 Reserve Cabernet Sauvignon.
So, the next time you see those shiny medals on a wine bottle, remember that they're a symbol of quality within a specific context. At Upper Reach, we're all about crafting wines that reflect our terroir and delight our customers. Because, in the end, it's not about the bling on the bottle; it's about the memories and moments shared over a glass of exceptional wine. Cheers to authenticity in winemaking!