24 August 2018 | Stephen Wallace
Why Aerate Wine?
Do wine aerators really make a wine taste different?

Simple answer.. because it makes all red wines and some white wines taste heaps better!
I often get customers to taste the huge difference that aeration makes.
I pour them some wine straight from the bottle and then in another glass pour some wine using our Vinoair Aerator.
Every customer so far has prefered the aerated wine 'the aerated wines seems smoother, with a bit more to it.' The aerated wine is more lifted, bigger and brighter. The more full-bodied reds open up and show more complexity after the extra air contact.
How does Aeration work?
Aeration works by allowing the wine to oxidise.
The increased oxidation softens the tannins and seems to smooth out the wine.
Aerating plays a huge part in enhancing your drinking experience; first off, it releases a wine's beautiful aroma. The aeration creates bubbles this increases the surface area allowing the wine to show off its beautiful scents.
While in the bottle, wine is reacting with oxygen and constantly changing, just at a slower rate than when it's out of the bottle.
In a sense, aerating wine is mimics or speeds up the wine's ageing, so effectively giving you a snapshot of the wine's cellaring potential.
And of course, this means you are going to get the very best out of the wine you are drinking today!
So, if you're tucking into a beautiful full-bodied red like our Reserve Shiraz or Petit Verdot or have a certain penchant for our Museum Wines, make sure you aerate them before you drink them.
A marvellous way of not having to decant a whole bottle is by using one of these amazing pourers. It aerates your wine as you pour! And the best bit...if you haven't finished the bottle, you've only aerated the wine your drinking.
If you aerate wine by decanting the bottle and don't finish the bottle, as you've speeded up the ageing process the wine is unlikely to be any good the next day.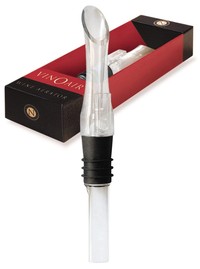 What wines should I aerate?
​​
Decanting Wine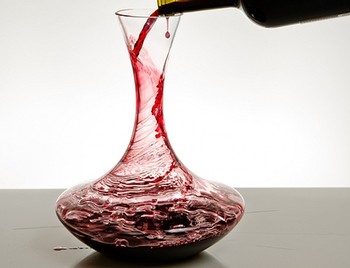 Decanting wine is another way of aerating your wine.
Decanting is usually best for full-bodied red wines or wines that have aged. It does 3 essential things:
Aerates
Catches Sediment
Increases surface area in which the wine can release the aroma.
Over time, as a red wine ages, the Tannins clump together and fall to the bottom of the bottle forming sediment. This sediment is not very tasty and should be avoided at all costs. If you allow wine to sit in a decanted for an hour or more, the sediment will fall to the bottom of the decanter and be caught in the dimple at the bottom, making the wine you drink from it free from sediment, while also aerating.
Learn more about How Wine Ages
If you are having guests over for dinner who enjoy red wine, make sure you crack the bottle and pour it in a decanter at least 30 minutes before they arrive. Don't be scared to give it a swirl to slosh it around, this will open up the wine perfectly.
You're now ready to enjoy wine at it's fullest potential.
Warning: you will need to drink it all that night! After all that aeration the wine will taste 'past it' the next day.
Mind you I like an achievable goal!
Cheers!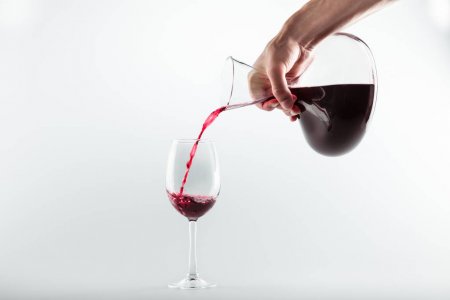 *Important Note* - Not all wines need to be aerated. Aerating certain wines can actually ruin their complexity and destroy their flavour characteristics hugely.
Avoid aerating lighter-bodied reds such as Pinot Noir, and fresh white wines, such as Verdelho, Sauvignon Blanc or Unwooded Chardonnay.