13 April 2022 | Laura Pearse
What wine matches with chocolate
It's always the perfect time to look at a couple of guilty (or not so guilty) pleasures. Wine and chocolate.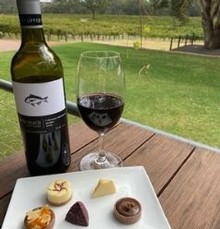 We know about wine and food pairings ... it's generally said that white wine goes well with seafood and red wine with rich meats.
But what wine matches with chocolate: All you really need to know is chocolate is delicious, wine is delicious, eating chocolate while drinking wine is doubly delicious!
Matching wine with food is all about balance and so is matching wine and chocolate.
While there are things to think about, finding the right balance is not complicated. Just look at the most obvious characters of both the wine and the chocolate, are they:
rich vs light

full or medium bodied

bitter or creamy

dry or sweet
Let's have a look at some types of chocolate and the wines we think will go a long way to creating that match made in heaven.
What wine can I drink with Dark chocolate?
Dark chocolate with 70% to 80% cacao is the most intense and because of its rich flavours, it calls for bolder, richer and fuller-bodied red wines that have more concentrated fruit notes.
Dar Chocolate is perfect for the chocoholic who prefers less sweetnes and more cocoa.😉
They're also delicious served with a Tawny Port or Liqueur Muscat.
Cabernet Sauvignon and dark chocolate usually work well together, and if there was to be just one chocolate and wine suggestion, it would be this one.
The fruit intensity and medium to full bodied flavour of Shiraz makes for a rich and mouth-filling combination.
The Gig Grenache Shiraz matches well with heavier chocolates as it has good fruit weight and is lower in tannins which can balance out the bitterness of dark chocolate.
What wine can I drink with Milk chocolate?
Milk chocolate has a lower percentage of cacao and a higher percentage of sugar. This plus its milk content means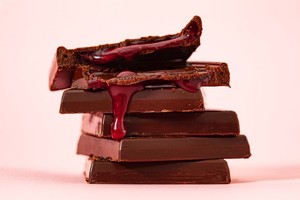 it's milder, and sweeter; milk chocolate flavours include brown sugar, cocoa, vanilla, honey, caramel, milk, cream, nutty and/or malt.
Milk chocolate pairs nicely with lighter, fruiter and lower alcohol reds or try a fortified wine such as Liqueur Muscat – its butterscotch, toffee and nutty characteristics highlight milk chocolate's nutty and caramel notes and enhance the overall flavour.
A gently oaked Chardonnay would be delicious with a buttery milk chocolate or with an all time favourite fruit and nut chocolate.The creamy mouthfeel of a Chardonnay works really well with a quality milk chocolate.
What wine can I drink with White chocolate?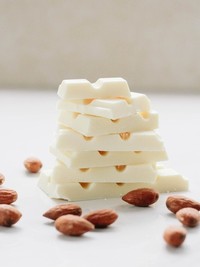 Even though this amazing confection is called white chocolate, it isn't actually chocolate as it doesn't include cocoa! Instead it is made of cocoa butter, sugar and milk solids.
The sweet flavours of cream, milk, honey, vanilla, caramel or fruit makes it a perfect partner to sweeter wines.
A brilliant match would be a fruit-driven white wine or Rosé as they help cleanse the palate of the richness of white chocolate.
Chocolate and Wine Tasting
What wine can I drink with Chilli chocolate?
This is perhaps the most popular spiced chocolate out there. The hot spice aftertaste of this delicacy is not for the faint hearted, but it goes wonderfully with a Tempranillo or Verdelho.
What wine can I drink with Salted Caramel chocolate?
Try this with a glass of Sparking Chardonnay; salty and sweet and so moreish.
What wine can I drink with Mint chocolate?
Crisp and refreshing, dark mint chocolate pairs well with Cabernet Sauvignon.
What wine can I drink with Dark Raspberry chocolate?
This would be the perfect match with Petit Verdot.
Right now we have so many different flavours of chocolate available, just like we have an amazing selection of wines.
Each and every one of us has a unique palate, likes and dislikes, the only real way to find your favourite chocolate and wine match is to experiment and we know what a tough job that will be.
Give it a go and have a heap of fun finding your favourites.