12 August 2022 | Cheyne Wilkin
Breakfast in the Swan Valley
The what, the where & the
feed me more!
The weather is starting to turn from those dazzling summer days into the vibrant hues of chilly Autumn and bringing with it the all important question of "Breakfast, where?". The most asked question that we
are getting at the moment from both cottage guests and
(early) wine tasters is 'Where can we go for Brunch?'.
With our local's knowledge of the Swan Valley and surrounds,
the cellar staff decided to share with you the top 3 BEST spots for breakfast in our opinions.

Number 1: Taylors In The Valley.
Okay, this is the café for the whole family. The men and women who can eat.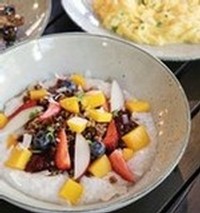 Taylor's is for the adventurous at heart as well as producing breakfast staples (think Big Breakfast). Personally I cannot go past their Rose & Coconut Sago Pudding with nutty granola & raspberry gel. Just heaven.
However, one of the winemaker's swears by Taylor's Belgian Waffle with Samboy BBQ Crumbed Chicken Breast, chilli maple, chipotle mayo with poached free range egg.

For the coffee addicts amongst us…. amazing coffee and they serve it in a soup bowl size.
Foodies, this café focuses on local seasonal produce & does gluten free (all dietary requirements really) like absolute pros.
So if you have a variety of tastes in one group, this is the café for you!
Street parking, indoor & outdoor seating, kid's sandpit and beautiful rustic chic furniture and resident artist on site if you feel like a browse!
Added perk - it's sandwiched between Swan Valley Brewery, Whistlers Chocolate Factory & the Kimberley Rum Company- perfect sauntering distance if you can't be bothered moving the car!
Their menu: Taylor's Cafes Menu
Tuesday – Sunday Kitchen 7.30am – 2pm
510 Great Northern Hwy, Middle Swan WA 6056
Ph 0403 628 233

Number 2: Maison Saint Honore
Do you have a late lunch planned? If so, this is the breakfast stop for you!
It only failed to make number one by the fact that it is the place where everything tempts you and you will eat till you cannot fit another bite! Bit of a problem if you breakfast at 9.30 – 10am and then have a winery lunch planned for 12.30pm!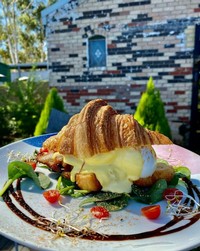 These guys are renowned for their cakes and pastries but let's have a quick chat about their "Egg Royal". Freshly baked croissant with 2 poached eggs, spinach, hollandaise sauce, mozzarella & cherry tomatoes. I like to add smoked salmon to the mix but the males of this group are streaky bacon & ham all the way.
And because my eyes are always bigger than my belly, I like to grab some macaroons or other freshly baked sweet delight from their takeaway case for 'afternoonsies'.
Lots of parking, a designated kids area if one of your party has a rambunctious smaller member and an easy going atmosphere; perfect to get the brain in gear and line the stomach for a leisurely day of wine tasting!
Their menu: Maison Saint Honore Menu Monday – Friday 7am – 3pm
Saturday-Sunday 8am – 4pm
100 Benara Rd, Caversham WA 6055
Ph 9377 4674

Number 3: Padbury's Restaurant

Located in Guildford, the gateway suburb to the Swan Valley, Padbury's opens at 7am.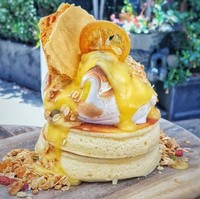 Padbury's does a simply smashing cup of coffee and a meringue munro pancake
stack that even makes our resident pancake hater go weak at the
knees (yes, we worry about her too!).
Think home-made lemon curd, honeycomb, toasted coconut & fig & meringue served with soft pillowy buttermilk pancakes.
Offering inside and outside seating and plenty of pram parking, it's
a brilliant spot without having to fight for space.
It's handily located a mere 3-minute walk (perfect to wiggle down breakfast) from the Swan Valley Tourist Centre, so you can pop in and plan your wine and spirit safari for the day!
Their menu: Padbury's Menu
Monday- Sunday Kitchen 7am – 2pm 114 Terrace Rd, Guildford WA 6055
Ph 0402 488 638

We hope that you enjoy your breakfast in the Swan Valley as much as we do!