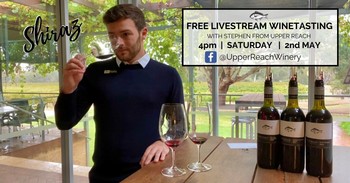 Shiraz Duo (Shiraz masterclass)
Shiraz Duo (Shiraz masterclass)
By popular demand from our last Livestream, Upper Reach will be doing this weeks FREE Live Tasting Class that will explore our exceptional Reserve Shiraz & how it's unique micro-climate influences it's character.

We will take a look at:
- 2016 Reserve Shiraz
- 2009 Reserve Shiraz

We'll be talking about tasting notes, food pairing, and in particular age-ability & how age influences flavour. We will talk about cellaring conditions and how long to keep a Shiraz.