Twilight Concerts
Each February and March we hold Twilight Concerts to celebrate our Swan Valley harvest and vintage.
Combine fabulous food, award winning wines and marvellous music; you have the perfect recipe for a summer twilight evening in the Swan Valley.
Unfortuately you've missed the 2018 Twilight Concerts, they were all fabulous nights.
We'll be holding these initmate, picnic style concerts in 2019- join our mailing list to be first to find out who's playing!
Perth's best Salsa, Samba, Soul, Swing and Cabaret.
Upper Reach proudly supports local Perth musicians - each year we search out the hottest up & coming bands, so that we have a mixture of new, talented musos as well as our old favourites, they're back 'cos we can't get enough of them!
Bring a picnic to enjoy during the Twilight Concert as the sun sets over the vines or, for the best seats in the house, dine in Riverbrook Restaurant overlooking the festivities.
View concert Dinner Menu here.
Doors Open 5.30, Music 6.30-9.30
2018 Twilight Concerts
Saturday 3 February - Adam Hall & The Soul Playboys
Saturday 17 February - Neuva Salsa

Saturday 3 March - Libby Hammer Quintet

Saturday 17 March - The Soul Playboys & Adam Hall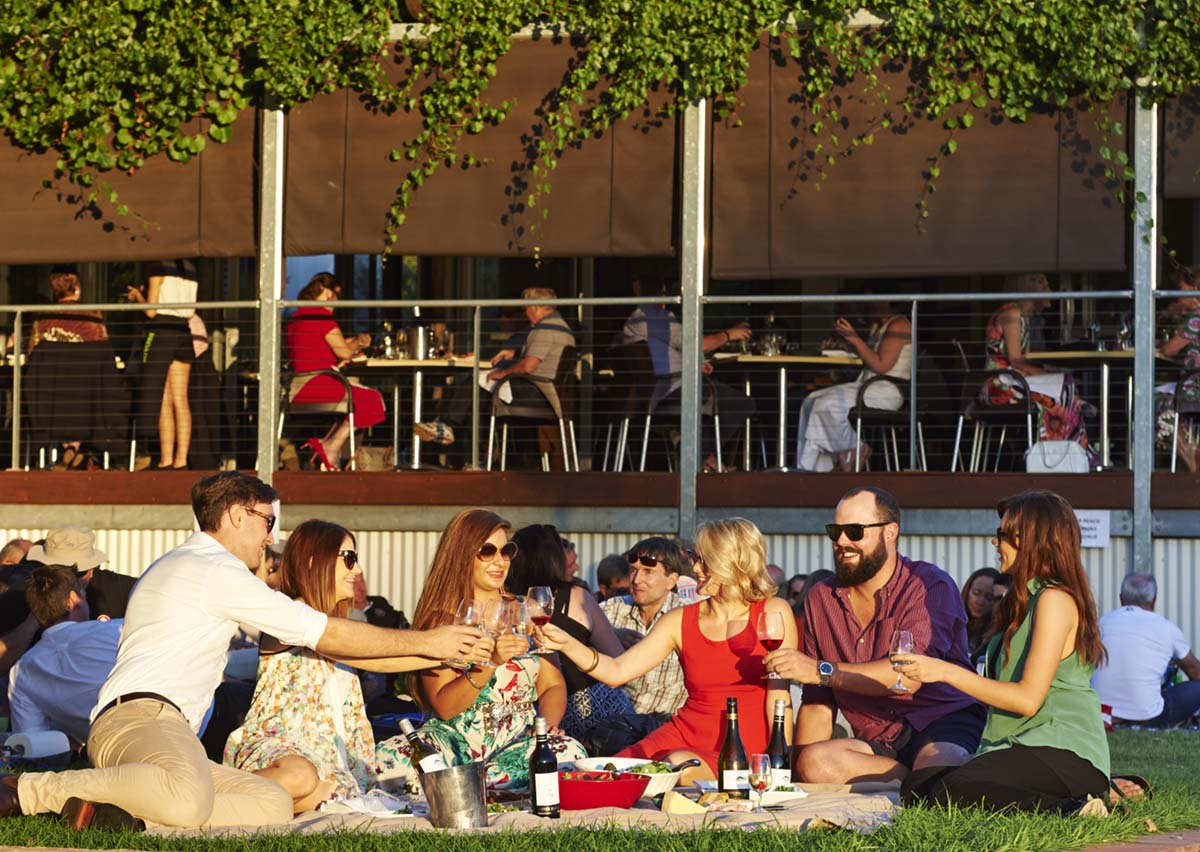 2018 Twilight Concerts.....2019 line-up tba
The Velvet Playboys & Adam Hall: Saturday 3 February 2018
We get these guys back, because they are soooo good!
Fantastic entertainers, an institution of the Perth music scene, their captivating live performance and raw energy will have you up and dancing the night away!
The Velvet Playboy's repertoire is rooted in the jazz, rhythm & blues music of the 40s and 50s. Artists such as Ray Charles, Frank Sinatra, Louis Prima, Sammy Davis Junior, Harry Connick Junior, Jackie Wilson, Chuck Berry and The Blues Brothers.
A fabulous feast for all five senses!
Nueva Salsa: Saturday, February 17
The hottest Cuban and New York salsa band this side of Latin America, Nueva Salsa is high-energy salsa, mambos, bombas and cha cha, guaranteed to get you moving to their infectious rhythms.
The nine-piece salsa band's infectious beat, sparkling horns, awesome vocals and bass grooves will transport you to Latin America.
This'll be a red hot Valentine's celebration topped off by an inspired set menu from Anthony Broad at the Restaurant.
Libby Hammer Quintet: Saturday, March 3
The Libby Hammer Quintet performs a gorgeous mix of cabaret jazz, soul-drenched blues and spirited swing.
Libby's voice is silky-smooth, then as raw as guts, and usually the whole thing explodes into elegant silliness, making every performance a show to remember.
Join us for a stylish romp through lesser-known gems of the standard songbook interspersed with carefully teased cabaret repertoire.
The Soul Playboys & Adam Hall: Saturday, March 17
The final concert is all about Soul. Adam Hall, leader of the Velvet Playboys, will take the audience for an evening of soul, velvet sounds and groovy times.
Think Stevie Wonder, Prince and Michael Jackson and then add a modern twist with Bruno Mars, Justin Timberlake and Beyonce. Classic hits like Superstition, No Diggity and many more will have you dancing on the grass.