5 June 2020 | Laura Pearse
Wine Tasting Phase 3
Welcome Back!
We are so very happy to see you again.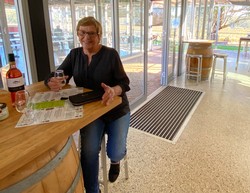 It's the New Normal, so there are things we've got to do to keep everyone safe:
​
All wine tastings must be seated
We've organised tasting spots with bar stools
If people are waiting, we may need to limit your tastings
You're welcome to enjoy a glass of wine on the deck, but you must be seated
Everyone needs to give contact details...in case any tracing needs to be done in the future
Life is too short to drink boring wine, you've probably had to resort to the bottle shop, I tend to buy the same old thing or chose on 'interesting' label.
I'm often disappointed.
You deserve to enjoy every single glass that you drink.

Let us help you find your perfect wine for you, don't waste time in the bottle shop.
Don't waste money on average wine… Let's drink better and support a 100% West Australian Family owned winery.
We've all done so well to get to this stage - we ought to be proud of ourselves, this future is a new adventure, let's take the best of these past months:
Less rushed.

Let's try to be kinder to each other.
Try to enjoy every minute of every day, as well as every glass of wine.
At Upper Reach, the safety and well-being of our guests, staff and the general public is very important to us.
Please be assured that health and hygiene are at even higher standards than normal.
We look forward to welcoming you to Upper Reach!